Fancy Yarn for Socks: The Best Value for Comfort, Style, and Durability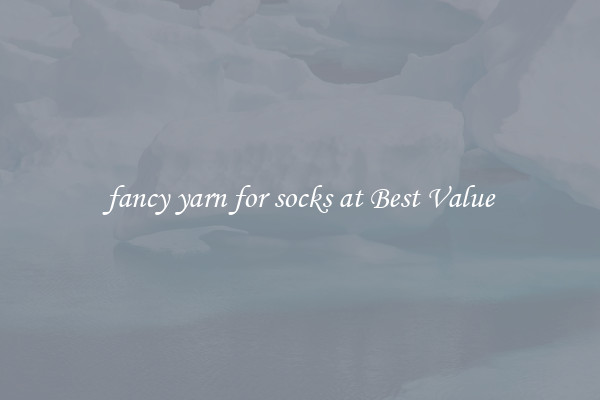 When it comes to socks, comfort is key. But why settle for basic, plain socks when you can elevate your sock game with fancy yarn? Fancy yarns add a touch of style, uniqueness, and luxuriousness to your sock collection, breathing new life into your everyday wardrobe.
At Best Value, we understand that quality matters. That's why we offer a wide range of fancy yarns for socks, ensuring that you get the best value for your money without compromising on style, comfort, or durability.
One of the most popular types of fancy yarn for socks is bamboo yarn. Known for its softness and breathability, bamboo yarn provides unparalleled comfort. It is naturally antibacterial, keeping your feet fresh and odor-free throughout the day. Additionally, bamboo yarn is moisture-wicking, absorbing sweat and preventing your feet from feeling damp or uncomfortable. With bamboo yarn socks, you can bid farewell to sweaty and smelly feet!
For those looking for a touch of elegance, silk yarn socks are the perfect choice. Silk yarn is considered the epitome of luxury due to its lustrous appearance and silky-smooth texture. Not only do silk yarn socks make you feel like royalty, but they also offer excellent breathability, regulating your body temperature and preventing your feet from overheating.
If you prefer warmth and cozy comfort, wool yarn socks are a must-have. Merino wool, in particular, is highly regarded for its excellent insulation properties, ensuring your feet stay toasty even in the coldest winter months. Despite its warmth, wool yarn is also breathable and moisture-wicking, preventing your feet from getting sweaty or clammy. With wool yarn socks, you can embrace comfort without sacrificing style.
For the environmentally conscious sock enthusiast, recycled yarn socks are a fantastic option. Made from regenerated fibers such as cotton, polyester, or nylon, these socks offer a sustainable solution without compromising on quality or style. By opting for recycled yarn socks, you can contribute to reducing waste while still enjoying fashionable and comfortable footwear.
In addition to the fancy yarn options mentioned above, Best Value also offers a variety of blends that combine different fibers to create a superior sock-wearing experience. Whether it's a blend of wool and silk for ultimate softness, or a combination of bamboo and cotton for optimal breathability, our range of fancy yarn blends caters to every individual's needs and preferences.
When investing in fancy yarn socks, it's important to consider their durability. At Best Value, we ensure that our fancy yarn socks are constructed to withstand regular wear and tear. Reinforced heels and toes, as well as excellent stitch quality, guarantee long-lasting socks that will accompany you on countless adventures.
In conclusion, fancy yarn socks offer the best value for comfort, style, and durability. Whether you choose bamboo, silk, wool, recycled yarn, or a blend, these luxurious materials elevate your sock game to new heights. At Best Value, we prioritize quality and offer a wide range of fancy yarn options to suit every taste. Make a statement with your socks and enjoy the comfort and style that fancy yarn brings to your everyday wardrobe.